In the 5 short days we have  spent in Tokyo, we've seen a lot of crazy things but I still feel that we have not even scratched the surface of this amazing city. This is the first of a few blog posts, highlighting a few parts of Tokyo we have gotten to see so far.
Exploring Ginza
Ginza is home to many high end, designer labels and department stores. It is also home to the Sony building and many more big name electronic brands. Ginza is known to be one of the most luxorious shopping districts in the World and after walking around the place, I can sure see why!
(Above) A typical street scene
(Above) One of the countless examples of amazing architecture and building design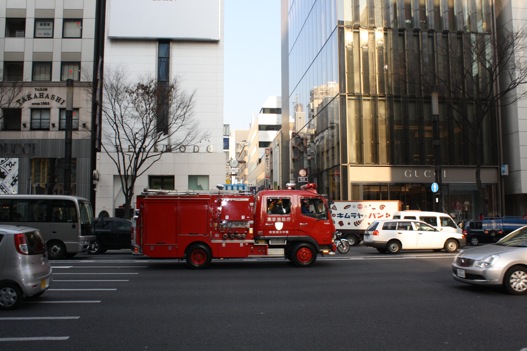 (Above) A Japanese fire engine
(Above) An impressive street corner in Ginza
(Above) A big, posh Apple store… iPad anyone?
(Above) There is a diverse range of buildings here in Ginza, like this one.